Designed to encourage writing across the curriculum, WriteRightNow makes it easy for teachers to provide individualized support for students with special needs and English Learners. A feedback library expedites grading and encourages students to engage in meaningful revisions.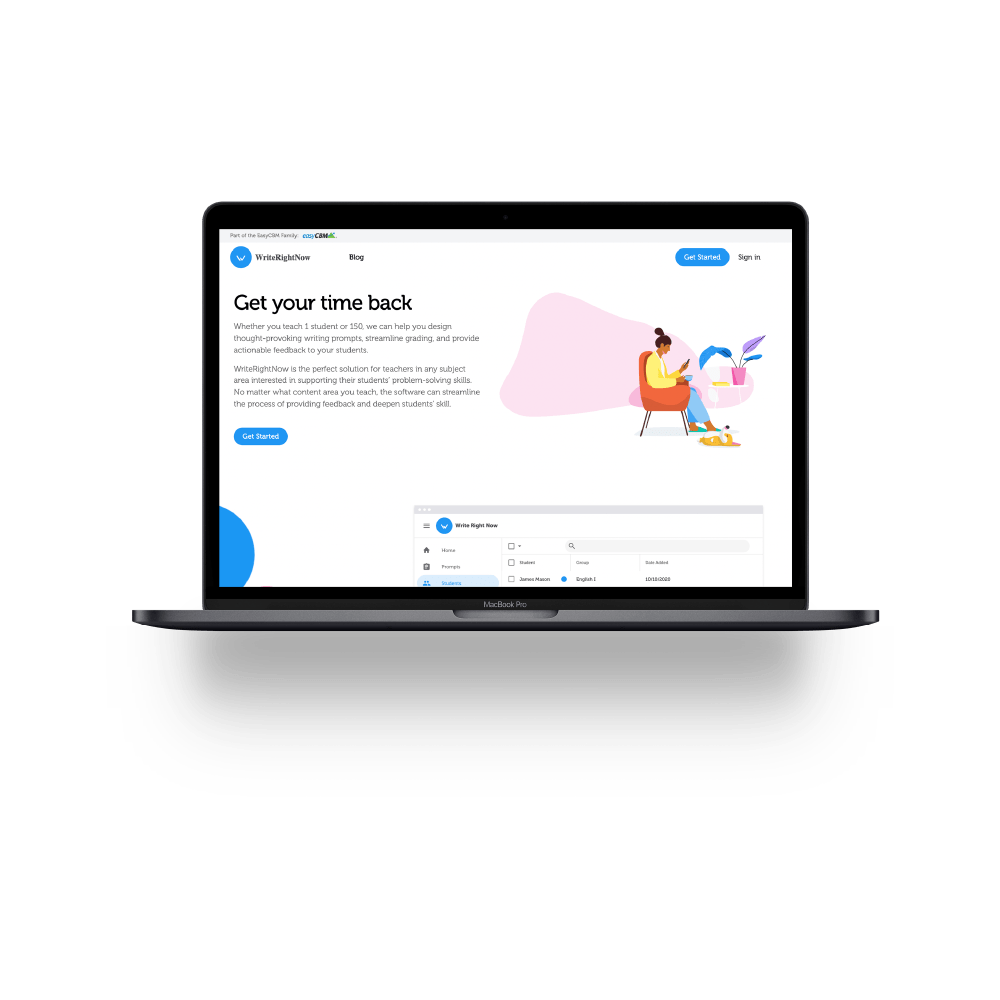 Writing
Whether you teach 1 student or 150, we can help you design thought-provoking writing prompts, streamline grading, and provide actionable feedback to your students.
Top Solutions
WriteRightNow is the perfect solution for teachers in any subject area interested in supporting their students' writing skills. No matter what content area you teach, the software can streamline the process of the students' ability to express themselves in writing.
Plagiarism Checker
The app comes with a built-in plagiarism checker to streamline the process of verifying that the work your students submit is their own.
Allow Student Peer Edits
Built-in peer editing functionality helps reinforce the writing process and reduces time and money spent on printing papers for editing purposes.
Share Feedback Libraries
Teachers love the ability to provide detailed feedback to students with the click of a button using the WriteRightNow Feedback Library.
Scaffolded Writing Supports
Load story starters, outlines, videos, background material, strategies and other supports to help students find success in
their writing.
Personalized Supports
Pre-load messages to encourage students to continue to write or to request help if they stop writing for a pre-set period of time.
Comprehensive Reports
Reports in the form of tables and interactive graphs provide an easy way to track student performance.
Our software is optimized for all screens and devices. No matter what type of computer or tablet you and your students use, we have you covered!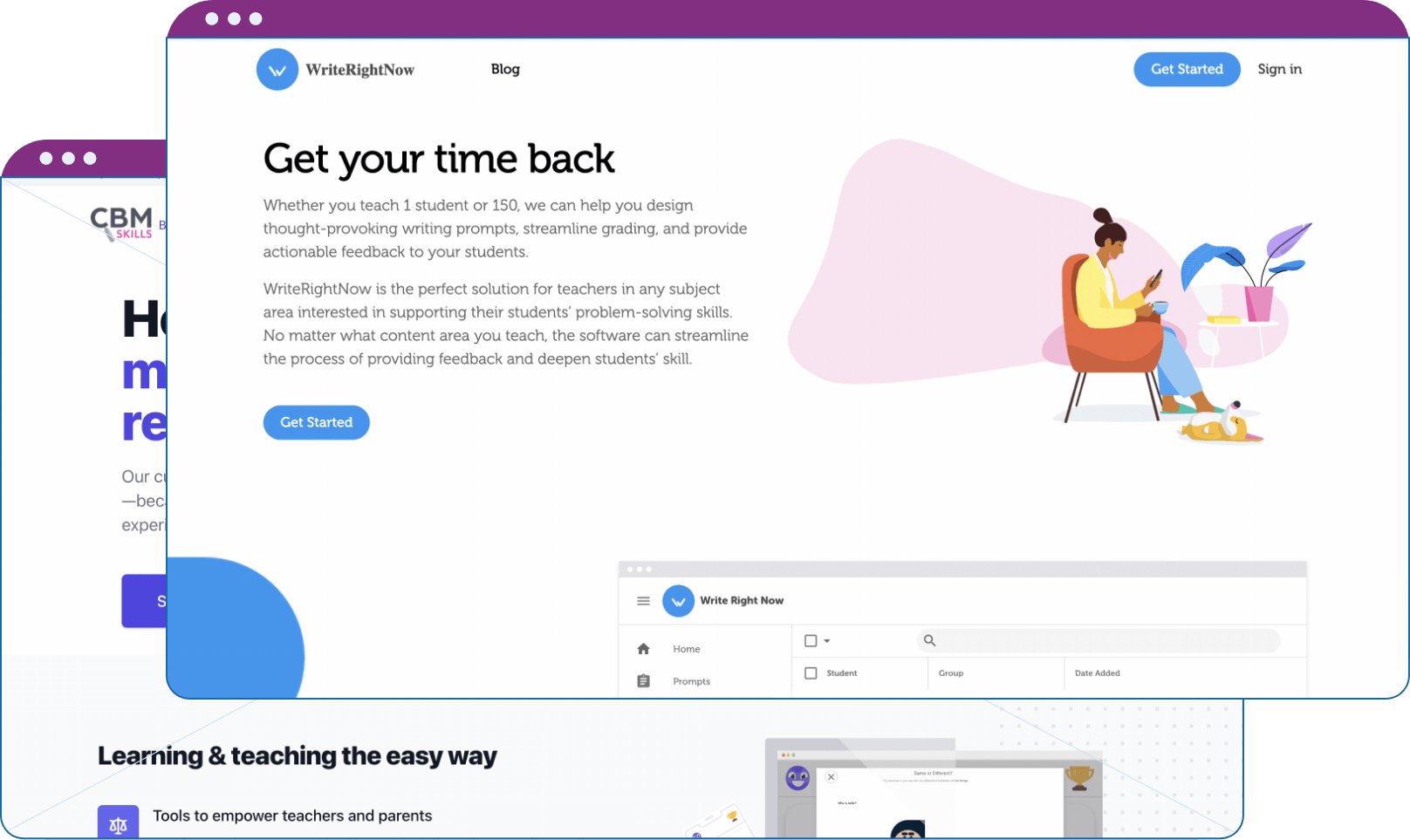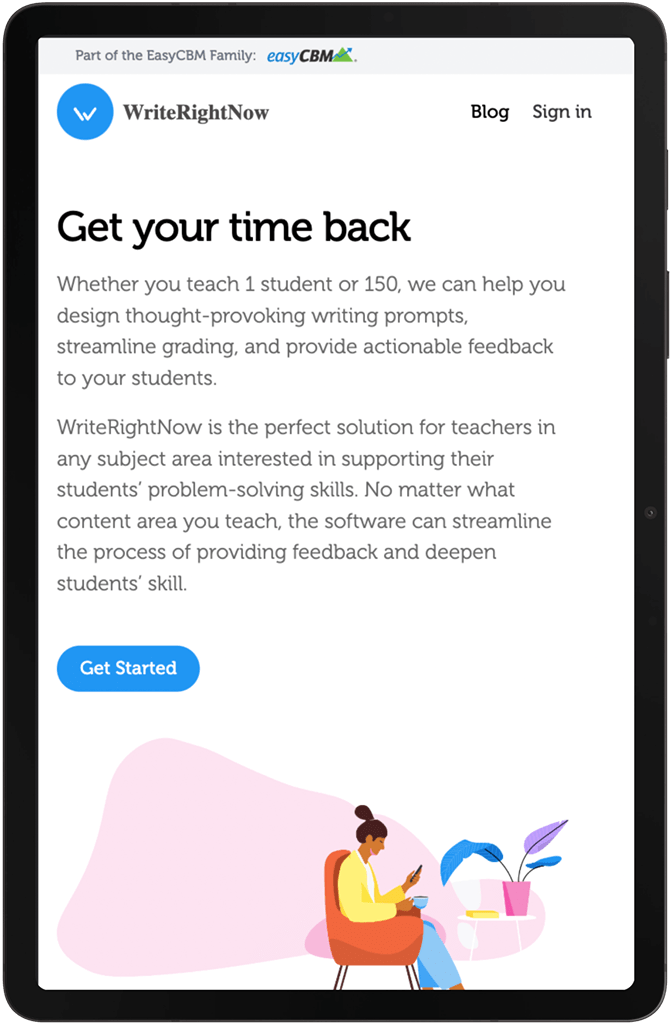 Writing Practice
Help students develop their writing skills with regular practice, scaffolded supports, peer editing, and meaningful feedback.
Improvement
Many different outcomes display improvement over time in a variety of important skill areas.
Feedback
Provide students immediate feedback for developing writing skills.
Our apps are easy to use and designed by and for educators.
Getting Started
Sign up for our app and create an account.
Organizing Assessments
Create your own writing prompt or select one from our library and edit it to fit your classroom context.
Making a Difference
Upload instructional supports (e.g., graphic organizers, paragraph starters, key vocabulary) and have students write their first draft.
Individualizing Instruction
Assign peer editing and revising or use the Feedback Library to provide detailed feedback with the click of a button. Apply a variety of nationally-validated rubrics or create a custom rubric for grading.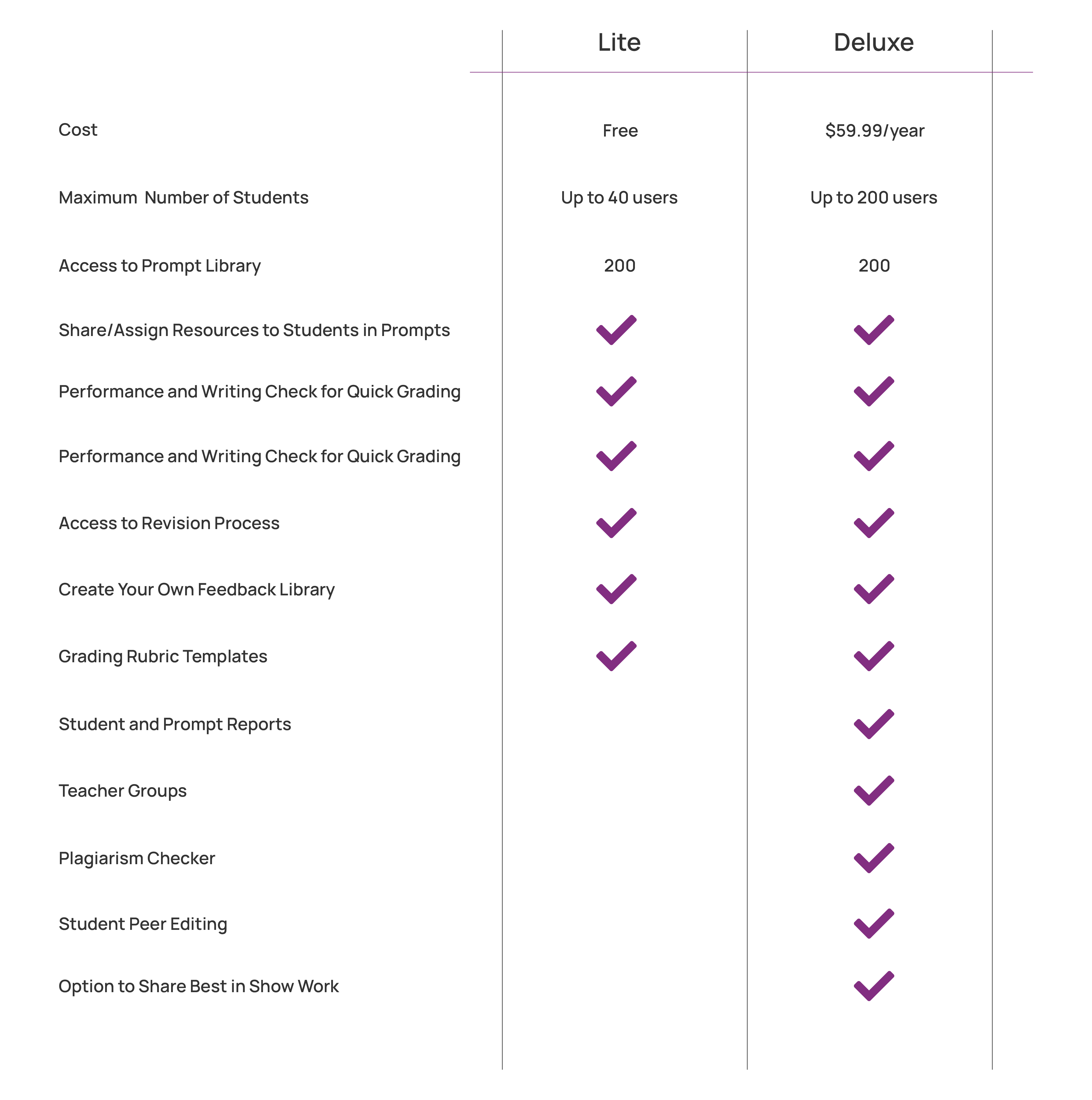 Help your students improve their writing with regular practice and feedback… without spending hours grading.
Collaborate with Teachers
Easily share writing prompts and feedback libraries with colleagues.
Write with Students
Give your students the opportunity to write regularly without getting buried by grading.
Develop with Drafts
The software encourages multiple drafts and revisions and facilitates peer editing.
Save Time
Specifically created to make teachers' work easier and relieve the burden of grading.
Achieve Your Goals
Student growth is automatically graphed in real-time, fueling renewed excitement and motivation for learning.
Show Outcomes
Curated reports based on each student's performance.
Don't miss out on our other curated apps and support